Osteoarthritis Self Help
Home

/

Osteoarthritis Self Help
Beating your Hip Osteoarthritis Diagnosis - One Step at a Time
The information on this page will help you get started in your fight back against OA, It's aimed primarily at those with a hip OA diagnosis, but should help with other forms of OA too.
At the bottom of the page you'll find links to helpful articles from my blog; be sure to visit the resources page for other external links that will prove helpful in your research. If all this seems overwhelming, consider getting a copy of my book; it will shortcut the learning process dramatically, help you avoid pitfalls and dead ends, and give you a flexible and comprehensive exercise plan to speed you on your way.
First, here's my six-point list for getting started:
Warning! Standard exercises and treatments recommended by doctors or offered by health providers such as physical therapists, chiropractors and osteopaths are unlikely to work well. You are dealing with a complex muscle imbalance that can only be treated by understanding in detail what has gone wrong, and working from inside (by feel) to 'reprogram' and 'reset' your body. Don't be conned into paying for expensive treatments that don't work!
"I just couldn't find better words to express my gratitude, and just by following your suggestions on which muscles to strengthen, I'm back to normal, no pain at all" - Cat
A Guide to the Resources on this Web Site
The most important quality in the fight against OA is tenacity. Whatever problems you run into - however impossible it feels - DO NOT GIVE UP. There are plenty of resources on this website to help you keep putting one foot in front of another until you succeed.
The Blog

Visit the blog for a variety of articles designed to motivate and inspire you as well as sharing tips, ideas and resource that will help you in your battle with Hip OA

Go to the Blog

The Forum

Regular visits to the forum are an absolute must. The book provides you with the information you need to tackle this problem, but it's through discussion with myself and others that things will really start to click into place.

Visit the Forum

The Self Help Book

Everyone is free to use all of the resources on this website whether they've purchased the book or not. However, the self help book provides a great deal of important information that's not available anywhere else. It will make your task much easier!

Learn More About the Book
Resources

The resources page provides links to useful tools, books and online material that will help you in your OA battle.

View Resources

Extreme Training

The treatment plan in the book is suitable for everyone. However, athletes (and wannabe athletes) will be pleased to know that extreme training and the pursuit of challenging fitness goals can be part of your rehab.

Learn More

Contact Me

If all else fails - drop me a line! I can't promise to answer everyone personally, but I'll do my best. At the very least I'll read all the messages and do my best to provide material on the web site to answer questions and provide solutions to problems.

Go to the Contact Page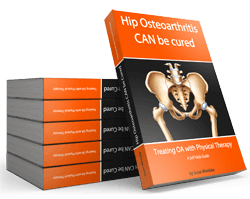 About the Self Help Book
After repeatedly being told "you should write a book about this", that's what I did. My self-help guide exposes still-prevalent myths about osteoarthritis and explains how to identify muscle imbalances that can lead to, or exacerbate, the symptoms of OA. It concludes with diagnostic tests to establish the precise nature of your imbalance and a series of self-administered physiotherapy exercises designed to correct those imbalances.
More Information / Purchase
"Results in one week!"
Graham Seageon
"Great book, have completed the exercise plan, hip pain gone"
Amazon Customer
"This Book is a Miracle Worker!"
Linda P
"This is a must read...and a MUST DO for anyone with hip issues!!"
Amazon Customer
"Best Book Ever Written"
Candy
"Puts the "diagnosis" of osteoarthritis into perspective"
Amazon Customer
Getting the Best Out of the Forum
The discussion forum is primarily designed to expand upon and supplement the information in the book.
Make a point of signing up to the forum and introducing yourself in the "About You" section as early as you can; having done this, you'll feel much less inhibited about asking for help when you need it, whether that's a bit of emotional support from other members or an answer to a specific technical question.
Take me to the Forum
"It is good to feel empowered, to be able to relieve the symptoms oneself. I cannot thank you enough, Susan. To be able to walk normally makes me feel euphoric!" - Claire